Typhoon Scorpion Nationals in association with Craftinsure & FFX at Penzance Sailing Club – Day 2: Monday
Kirsty
August 17, 2021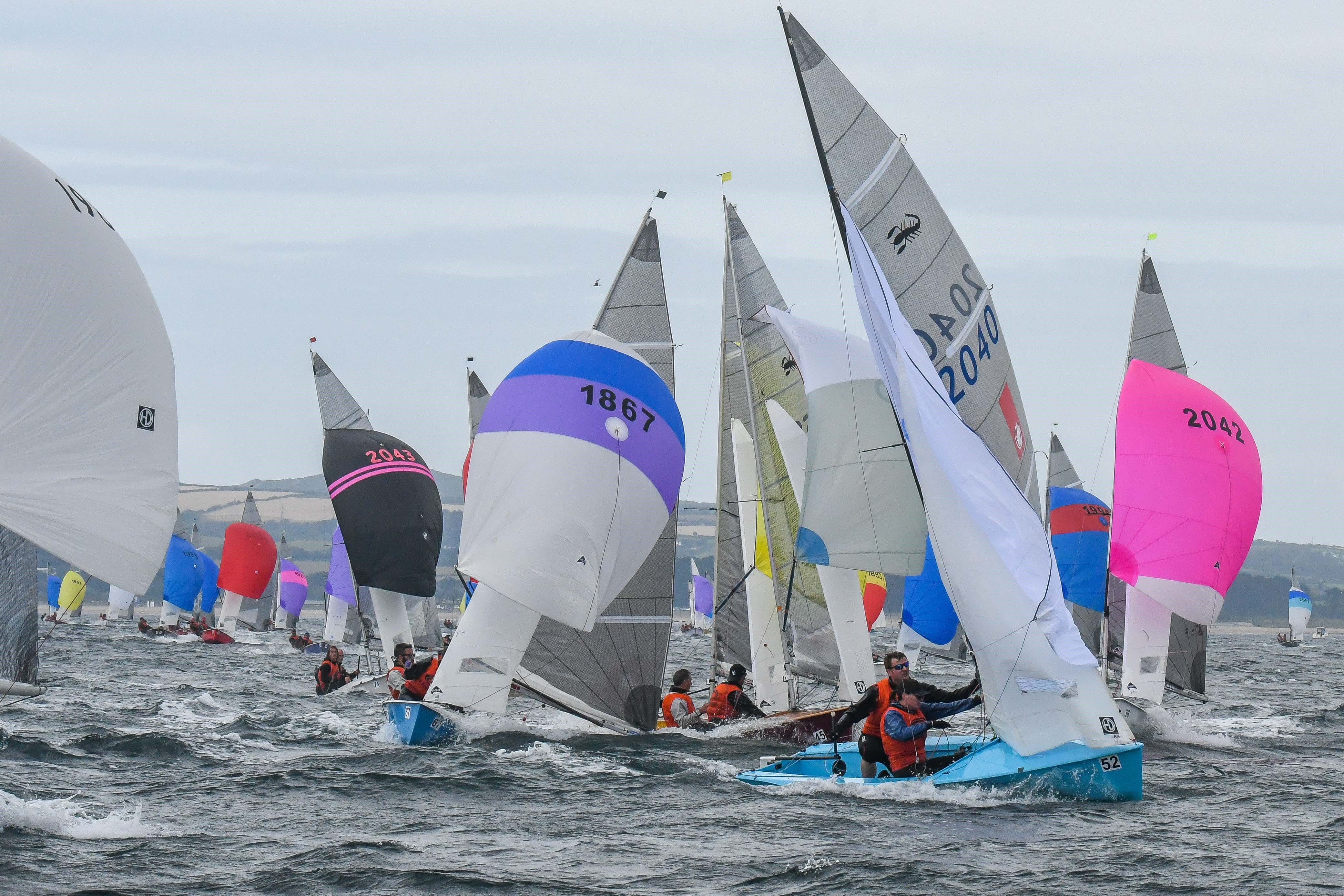 Day 2 dawned on a dryer, brighter Penzance with the sun encouraging the fleet to venture out from the harbour although the competitors were slightly stiffer from yesterday's exertions. The North Westerly meant that Mounts Bay was flatter but the wind was still a steady 20 knots.
Race 3: Course – T3L Triangle / Sausage /Triangle: Leeward Finish
Have a look at the fantastic drone footage of the gate start from Lee Whitehead. It took 2 hours of post footage editing to make the pathfinders, Dave Elson and Gavin look even remotely photogenic, but it was well worth it. Sam Watson & Shandy lead the way out the gate and managed to tack and clear the fleet. However, their plan went wrong as they pushed too far right and  were passed by the fleet on their inside. First round were Nigel Wakefield and Pasty in the famous Shockwave 1880 – Mike Lennon's Championship winning boat from 1987. As the race progressed, the cracks began to show in the fleet with Tom Jeffcoate & Tim Hartley's rudder parting company with the boat at the windward mark and Vince Horey taking a swim at the gybe mark.  At the finish, normal service had resumed with Tom Gillard & Rachael Gray leading the way then Ryan and Hannah Buchanan followed by Pete Gray and Rich Pepperdine.
Race 4: Course – T3L Triangle / Sausage /Triangle: Windward Finish
The early starters were well rewarded with Alan Krailing & Si Forbes creaming in from the left followed by Tom & Rachael. The order stayed the same until the run when Alan was stranded high and Tom took the opportunity to make an undertake which he held to the finish. Second was Alan Krailing and Si Forbes and third was Pete Gray and Rich Pepperdine.
Again, the Penzance safety team were amazing and didn't come off the water until all competitors were safely ashore with beers and saffron buns. Although, they did have to wait until our past national champion John Mursell sailing with regular Y&Y columnist Dougal Henshaw finally arrived after mistakenly sailing into Newlyn harbour, rather than Penzance – surely a nomination for tonight's pecker award.
Tonight's social is the 'eggs in the basket' quiz night hosted by the newly weds Pete & Rachael Grey
The SWHAGS have successfully completed a very arduous expedition to Mousehole via numerous ice cream shops.
Date: 16/08/21
Results: CLICK HERE
By Dave Elston