Typhoon
Great protection in and out of the water with Typhoon International's Ventor5 boots
Kirsty
July 27, 2021
Give your feet the protection they deserve without any compromise to your performance with Typhoon International's new Ventnor5 boots.
The Ventnor5 boots are perfect for every dinghy sailor, surfer and in fact any watersports enthusiast looking for extra warmth and a robust boot, while enjoying a comfortable and flexible fit.
The key to keeping feet cosy and warm lies in the generous 5mm neoprene fabric, making the Ventnor5 a great choice for year round use.  The quality boot is designed to withstand plenty of action on boat and beach. The rubber reinforced heel and ankle support gives lots of protection to active sailors and watersports athletes, with toes that are reinforced against knocks and scuffs too. There's no risk of chafe from seams because they are glued and blind stitched.  The lightweight flexible sole won't slow your movements down either, while the stretchy fabric qualities still allow plenty of freedom of movement.
The black Ventnor5 boots will complement any wetsuit or drysuit from the Typhoon International ranges.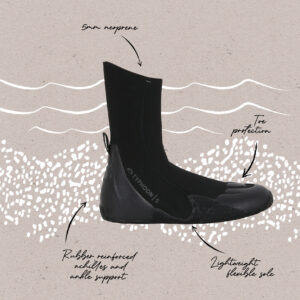 Like the other products in Typhoon International's wetsuit range, the Ventnor5 boot has been created according to the company's commitment to the environment.  Each wetsuit accessory is manufactured according to 'REACH' regulations, ensuring that chemicals hazardous to the environment are not used in the manufacturing process.