Typhoon
Typhoon International 29er Winter Championships 2022
Kirsty
February 03, 2022
Report by Sam Jones
48 boats arrived at the Winter Championships for what was to be an epic weekend of racing. A glorious 25 knot forecast for Saturday had the heavy teams on the edge of their seats, and the lighter teams shaking in their boots, praying for the day to be cancelled. 6 Irish boats made their way over to Grafham Water in search of some competition, and were hoping for a full weekend of racing to maximise the bang for their buck.
The decision was made to delay Saturday by 2 hours, but sailors were still keen to get on the water. After listening to some classic tunes (reggae shark) in the changing rooms, hoisting the sails and getting the boats to the end of the slipway, the decision was made to cancel racing for the day. The larger teams loaded Adele on Spotify, and cried themselves to sleep ready for a day of light wind racing.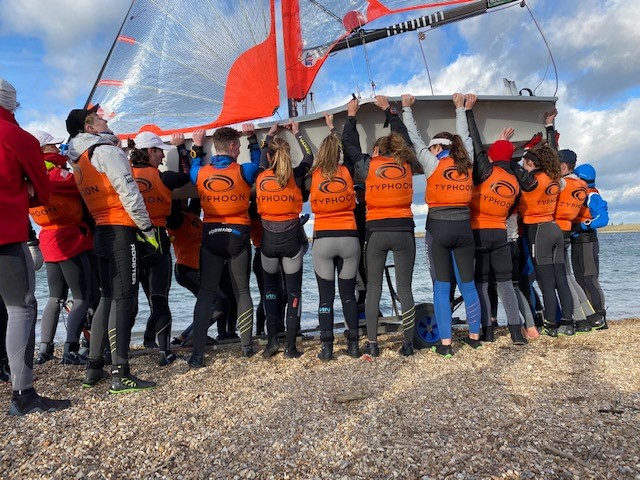 Day 2 started early, and racing kicked off straight away, in the hope of getting in as many races as possible. Race 1 was underway and the whole fleet were shocked to their core. 2903 Freddie Westwell and Freddie Lonsdale, at a monstrous mass of 145 kg were winning the race in less than 10 knots! While the fleet calmed down from this unexpected event, Freddie and Freddie carried on to win race 1.
Race 2 was another tricky one, with gusts and shifts, it was vital that sailors were on their toes at all times to make sure they were in the right place at the right time. With boats battling their way upwind, the Irish pairing of Ben O'Shaughnessy and James Dwyer Matthews took the win, making the most of the shifts upwind, and staying nicely in the pressure on the downwinds.
Race 3 can only be described as strange, with some huge shifts on the first upwind, many boats were forced to the back of the fleet, and the one way nature made it difficult to fight back. However it was 3081 Olly Peters and Ben Bradley that were able to part the seas and take the win, proving themselves to be the only consistent boat so far in the regatta.
Race 4 was sailed in slightly more wind, with boats planing downwind, making for some more exciting racing. Another Irish team Clementine and Nathan Van Steenberge took the win, with a close battle for second between Olly and Ben, 2736 Charlie and Sam, Ben and James, and 2822 Johnny and Ethan. It was staying in the pressure that allowed Charlie and Sam to come out on top.
The final race was won by a huge margin, with GBR 12 Ben Mueller and Sam Webb making the most of the pressure on the first downwind and winning by half the downwind. 2966 Santi and Leo took 2nd place in a close race with Charlie and Sam coming in 3rd, the first time Leo and Sam had raced against each other since Toppers.
Overall 3rd Place was taken by Ben Mueller and Sam Webb, in 2nd Place was Ben O'Shaughnessy and James Dwyer Matthews. But it was a true consistency of sailing, like turning water into wine, that allowed Olly Peters and Ben Bradley to take the overall win.
1st Juniors were Rob Mawdsley and Ollie Mears, 1st females were Emily Conan and Lauren O'Callaghan, and 1st mixed team was Annabelle Vines and Raulf Berry.
Overall it was a great event, with some international competition for a change. Congratulations to Olly and Ben, and we're looking forward to seeing everyone at Weymouth! Thank you to our sponsors, Typhoon International for sponsoring this event.